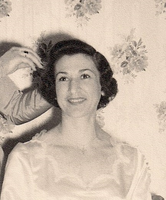 Dorothy Mary Favichia
Dorothy Favichia, 93, passed away Friday, February 16 2018 at 1230 in her home in Lynbrook NY.
Dorothy leaves her son Frank Favichia with his wife Olga, daughter Michelle and son Michael, son William Favichia Jr. with his two daughters Cheryl and Gwyneth, son Michael, Great Grandson Michael and Great Granddaughter Ella Victoria.
Dorothy was born in Far Rockaway, New York, settled and raised her family in Lynbrook New York.
During WWII, Dorothy worked for Grumman Aircraft Engineering Corporation building airplanes for the US military, then worked for AT&T as an switchboard operator in Lynbrook NY before marrying her husband William of 66 years and starting a family.
Dorothy was a woman of absolute honor and integrity who dedicated her entire life to her family and Roman Catholic faith. Dorothy's sacrifice, character and support to others were definition of the Great Generation, a true New Yorker and Long Islander.
Funeral Services will be held at Perry Funeral Home, 118 Union Ave. Lynbrook NY 11563 (516-593-1111) on Monday February 19, 2018 at 2-4 and 7-9 PM. The Funeral will be held on Tuesday February 20 at Saint Joseph Church 1346 Broadway Hewlett, NY 11557.