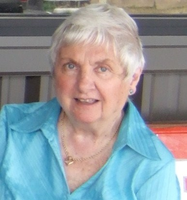 Elaine Ann Herman
Elaine Ann Herman, formerly of Hewlett, New York, passed away on March 1, 2018 in Atlanta, Georgia, with her family at her bedside. She was 84. Elaine spent most of her life on Long Island. Following her 1951 graduation from Valley Stream Central High School, where she was a senior class officer, lettered in several sports and had roles in numerous theatrical productions, she took a job at Liberty Mutual Life Insurance Company. It was there that she met her husband of 54 years, Erle Cullen Herman, Jr. Following their marriage in 1954, they settled in Hewlett where they raised their family.
In 1972, Elaine took a part-time job as a page at Hewlett-Woodmere Public Library. She worked her way up, holding numerous positions, eventually becoming the Administrative Assistant to the Director. During her 33 years at the library she was known to both patrons and her colleagues as the fun-loving administrator, always ready with a smart wisecrack, a laugh and of course a full jar of candy at her desk.
Elaine was very active in the volunteer firefighting service, joining the Hewlett Fire Department Ladies Auxiliary shortly after marrying Erle. She served as President of that organization and of the Ladies Auxiliary Nassau County Firemen's Association. She was a proud parade judge for the Nassau County Drill Team Association for many years, taking her job very seriously yet making the parade route a fun affair. She also enjoyed attending annual firematic conventions across the state of New York, where she presided over the bylaws and business of the day but became the life of the party by night.
She enjoyed a black and blue steak, a strong SoCo Manhattan, and anything chocolate. Elaine also had a love for clowns, both collecting them and using any appropriate occasion to don a clown outfit, the more outrageous, the better. She enjoyed traveling with her husband, a veteran of WWII, to USS Iowa conventions across the country and to the annual Army / Navy football game, where she set out a mean tailgate spread to help cheer on Navy.
After leaving New York, she resided in Rhode Island where she quickly became the "mayor" of her new retirement community. Although technically a resident, she could not help but jump back into her love of organizing games, parties and resident activities, becoming the de facto right-hand woman to the official activities director.
Elaine was predeceased by her parents, George and Helen Geiger, her sister Florence Bedell, and her husband Erle. She is survived by her children Tom and Terri, their spouses Kathy and Steve, and grandchildren Cullen and Caroline.
The family will receive visitors on Wednesday, March 7 (2:00 p.m. to 4:00 p.m. and 7:00 p.m. to 9:00 p.m.) at Perry Funeral Home, 118 Union Avenue, Lynbrook, NY. A funeral service will be held on Thursday, March 8 at 10:00 a.m. at Trinity-St. John's Church, 1142 Broadway, Hewlett, NY, with interment immediately following in Trinity-St. John's Churchyard. In lieu of flowers, Elaine's family asks that you consider making a donation to her beloved Hewlett-Woodmere Public Library in her memory. Please send contributions to the attention of William Ferro, Hewlett-Woodmere Public Library, 1125 Broadway, Hewlett, NY 11557. »(Do not delete this line. It does not print. Text that is to appear on web must be entered before this line)