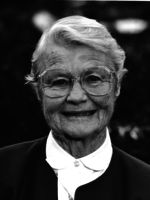 Phebe Wells Weissner
Phebe Anna Wells WEISSNER, 97, late of Malverne, NY, died January 8, 2018 at Cold Spring Hills Center for Nursing and Rehabilitation, Woodbury.
Born April 1, 1920 in Lynbrook, NY, she was the daughter of the late George Joseph Wells and the late Mary Rhoda West. Phebe graduated from Lynbrook High School and Browne's Business School and worked as a secretary in New York City before her marriage to Edward Albert Weissner. The couple lived first in Lynbrook, then moved to Malverne where they raised their children.
She participated in many volunteer activities. She was a Cub Scout leader, did braille transcriptions for the blind, and volunteered at Cerebral Palsy of Nassau County. A faithful and lifelong member of St. James United Methodist Church, Lynbrook, Phebe taught Sunday School, held leadership positions in the church women's organizations, served as a trustee, and was membership chairperson. She hosted church dinners and worked in the Thrift Shop. She loved to do calligraphy, sew, weave, and was a member of the Malverne Quilters. She loved to spend summers on the beach at Baiting Hollow on Long Island.
Phebe is survived by four children, William Weissner (Judith), Phebe Ann Kirkham (Donald), Steven Weissner (Marcia), and David Weissner (Patricia); daughter-in-law Patricia Weissner; eleven grandchildren, and seventeen great grandchildren.
She was preceded in death by her husband, Edward, of 53 years, two sons, Edward and Robert, and four siblings, Alice Bosand, Alfred, Ruth, and George Wells.
Burial will be at Greenfield Cemetery, Uniondale, NY. Friends and family are invited to a Memorial Service at St. James United Methodist Church, Lynbrook, on Saturday January 13 at 11 a.m. In lieu of flowers donations may be made to the St. James United Methodist Church Memorial Fund, Ceberal Palsy of Nassau County , or a charity of your choice. Funeral arrangements by Perry Funeral Home.