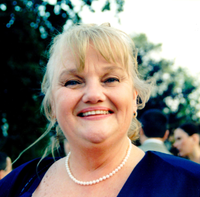 Dorothy Anderson
Dorothy Anderson- December 15, 1951- May 29, 2019

Devoted Wife of James Prihodka. Loving Mother of Robert Sima (Ingrid), Monica Ilie (Cristian) and Emilia Sima. Loving Stepmother to Michele & Rob Schroeder and Michael & Lauren Prihodka
Cherished Grandmother to David, Robert & Kylie Sima, Cristina and Adrian Ilie, Sophia, Nicholas and Alyssa Schroeder, Ashley & Lindsey Prihodka

Dear Sister to Richard Anderson, Linda Storace, Mary Langus, Joseph Anderson, and James Anderson
Cherished Aunt to Stephanie Storace & John Heluk, Kim Homma, Stacey Anderson, Julie Anderson and Great Aunt to Alan Heluk, Brooklyn Homma, and Ariah Miller.
And an Adored friend to many.

Dorothy was a dedicated mother first and foremost. She treasured her son, Robert, and embraced every moment with him. She especially loved her role as Grandma. She had a vivacious personality and always made people around her smile. She made friends everywhere she went and had a heart of gold.
Dorothy was a beloved nurse who dedicated her life to caring for others. She graduated from James Madison High School in New York, New York, and went on to Kings Borough Community College where she made the Dean's List in the Nursing Program. She then graduated from Staten Island College with B.A. in nursing.
Dorothy was a breast cancer survivor who believed in living her life to the fullest. She remained a brave, iron-willed woman, even throughout her final months, spreading kindness and joy to her family and friends
Dorothy is preceded in death by her dear mother, Dorothy Anderson, who she loved deeply.

In lieu of flowers please perform a random act of kindness for someone in Dorothy's memory.

"A life well lived is a precious gift
Of hope and strength and grace,
From someone who has made our world
A brighter, better place
It's filled with moments, sweet and sad
With smiles and sometimes tears,
With friendships formed and good times shared
And laughter through the years.
A life well lived is a legacy
Of joy and pride and pleasure,
A living, lasting memory
Our grateful hearts will treasure"