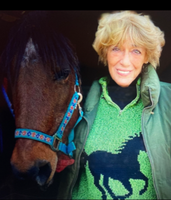 MARION J. ANTWINE
Marion Antwine was born in Brooklyn, New York, on July 12 th, 1945, to parents Ralph and Jean Ruggiero.
She was a loving wife of thirty-five years to her husband, Joseph Antwine, who passed away five years
prior.
Marion leaves behind her sister, Rosalind Bove, and her two adoring children, Regina Reyes and Jason
Antwine, daughter-in-law Fila and son-in-law Roy. Her five beautiful grandchildren: Jayden, Christian,
Milani, Caleesi, and Ryan will miss her terribly. We can not forget to mention her loyal and faithful dog
Buddy and her most beloved horse, Daisy.
Marion loved to work in her garden and play cards. She thoroughly enjoyed baking and cooking with her
grandchildren, but she got the most joy out of time when she would ride her horse Daisy in the open air.
She loved being in the open outdoors and just spending time with her friends and family.
Marion was many things to all, a wife, mother, sister, aunt, grandmother, and friend; but most of all, she
was a fighter who will be missed beyond measure. May she rest in eternal peace and rise in love!