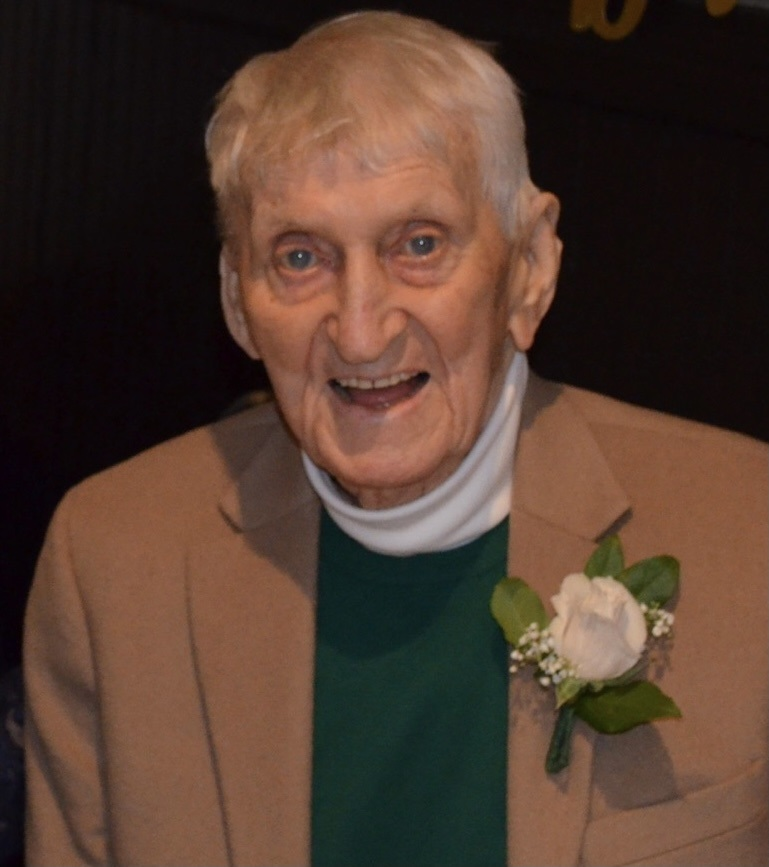 Obituary of George A McDougal
Please share a memory of George to include in a keepsake book for family and friends.
George A. McDougal, 91, of East Rockaway, NY passed peacefully on Friday, November 19, 2021. He is survived by his loving wife Connie of 66 years. Proud father of Susan West, Patty D'Angelo (Dave), Dennis (Susan), Laura Glenz (Larry), Michael (Jackie), Robert (Donna), Terry Murray (Kevin), Christopher (Sarah). Grandfather of 19 and 1 great grandchild. His grandchildren are: Jennifer Tindall (Joe), Gregory West; Emily and Lauren D'Angelo; Joseph, Sara and Andrew McDougal; Kathryn, Allison and Brendan McDougal; Victoria and James McDougal; Thomas, Elizabeth, Caroline and Daniel Murray; Caden, Liam and Molly McDougal. Tyler Tindall is his sole great grandson. A little known fact is that George was born in the front bedroom of the house he grew up and lived in most of his adult life at 680 Scranton Ave, East Rockaway. He was the youngest of a family of 7 and married his beautiful bride Connie Keenan, the oldest of six in 1955. They got married while St. Raymond's church was under construction and were married in the auditorium of St. Raymond's school. Connie, George and 7 of their children attended SRS. The couple celebrated their 65th wedding anniversary last year in grand style. They were able to renew their vows in church during COVID restrictions and received a standing ovation for this milestone, and George's 90th birthday. George graduated from Chaminade HS, where he was known as a cut up in class and well known for leading the Flyers' cheers as their sole cheerleader, filled with pep and "spizzerinctum". His Chaminade sweater and ring were treasured items and the family still has both today. George was a shuffleboard champion with his good friend Tom McGarry at the Bay House (gin mill) in Bay Park where they played for beer. At the young age of 19, he was drafted by the US Army and proudly served in the Combat Infantry 40th Division during the Korean War. Sergeant McDougal lead his troops courageously and received special commendations for his actions under enemy fire. He spoke little of his war experiences until recent years. George was the general manager at Rupp Chevrolet for many years, where his charming personality helped him gain many accolades and free cruises for his salesmanship. One of his great joys was to bring home the new model of station wagon to his ever growing family (he was most prolific!) and take the family around town and to Bay Park to show off the car. It was a real thrill for his children to always have a brand new car to travel in. His other passion was landscaping. He loved to manicure his home and friends would honk as they passed by and George was outside cutting the lawn or clipping the hedges. He took pride in the upkeep of his house, his family home, and decorated for every holiday impeccably. Dad was a true gentleman, honest, kind, loyal and loving. He was a man of great faith. He was an usher at St. Raymond's church, active in the community in the ER Action party. He loved his family and his devoted wife. He was a proud father. When we would ask what he wanted for a birthday or Christmas gift he would always say, " Good children". That always made for difficult gift giving because he already had them! His siblings loved to have loud parties where they sang around the piano with trumpet playing and family members recited classics like Casey at the Bat. The McDougals were large personalities and loved to have fun and drink. George enjoyed a libation or two and was known to frequent the local haunts like DeCandia's, the Whistling Gypsy and others. He truly just liked having fun. George had a great sense of humor and lust for life. He loved to share a joke at Sunday dinners getting material from his favorite book, the Reader's Digest. He enjoyed his grandchildren and took much joy in seeing his family grow. We will miss our dear husband, father, grandpa, great grandpa dearly. He has lead a long, fulfilling, rich life. He was loved by many. Rest in peace George. You fought the good fight and we are blessed to have been part of your family. Amen.
To send flowers to the family or plant a tree in memory of George McDougal, please visit Tribute Store
Share Your Memory of
George

118 Union Avenue | Lynbrook, New York | 11563
Tel: 516-593-1111 | Fax: 516-593-1114
Email: kenlysak@perryfh.com