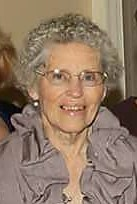 Obituary of Mary Ellen Jordan
Mary Ellen (Hofer) Jordan, 92, of Liberty Missouri, passed away Saturday, February 3, 2018. Mary was born and raised in the Kansas City MO area. She attended high school at what is now Shawnee Mission North and graduated with a bachelor's degree in Home Economics from St Theresa's College (Avila University). She worked for The Gas Service Company until her marriage. On February 11, 1950 Mary was married to Joseph Francis Jordan at St. Anne's Catholic Church in Prairie Village KS. Mary and Joe were the first couple married in the new sanctuary. Mary worked as a waitress/hostess for Howard Johnson's in Lynbrook NY from 1967-1976, then as dining room manager at Engineers Country Club in Roslyn Harbor NY from 1976-1994. Mary and Joe retired to Delray Beach FL in 1994. Joe passed away in 1995. During her time in Florida, Mary worked as a reservationist at the Polo Club of Boca Raton and also volunteered for many years at Spady Elementary School in Delray Beach FL. In 2009, Mary returned to the Midwest to live with her daughter Eileen. From 2009-2014 Mary volunteered daily at the Liberty Silver Center, helping to serve lunch to other seniors. Together, Mary and Joseph had six children; Kathleen (Neil) Doran of Ridgefield CT, Eileen (William) Lucas of Liberty MO, Patricia (dec.) (Bruce) Myers of Lake Worth FL, Thomas (Eileen) Jordan of Boca Raton FL, Joseph (Katherine) Jordan of Farmingdale NY, and Timothy (dec.) (Deborah) Jordan of Long Beach NY.
Mary was preceded in death by her mother and father, Mae and Earl Hofer, her husband Joseph, daughter Patricia Myers, son Timothy, grandson Brian Myers, and great-granddaughter Aleyah Lucas. She is survived by her remaining four children, 14 grandchildren, and 21 great grandchildren.
118 Union Avenue | Lynbrook, New York | 11563
Tel: 516-593-1111 | Fax: 516-593-1114
Email: kenlysak@perryfh.com